Meditations to help you with psychic protection and self defence, clearing negative energies and staying clear.
Psychic Protection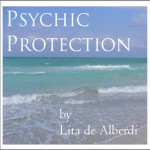 Two guided meditations include powerful processes to:
Ground your energy. Create and maintain a protective shield of energy through the day and night. Clear and cleanse your energy morning and evening
Presented as a morning meditation to listen to before you start your day and an evening meditation to set you up for a restful night, protected and safe and cleared from negative energies.
Many of our students feel that they need simple to use meditations that cover all these topics – THIS IS IT! Two meditations, one to use in the morning to set up your energy for the day, the other for the evening to clear your energy and set you up for a restful night.  Backed by Michael Hammer's beautiful music – Doorway to the Pleiades.
£7.95

Clearing Negative Energy
Track 1: Clearing your energy with the angels of purification. Every day we pick up energy that is not our own. Use this meditation to cleanse the aura, release all influences that do not contribute to your highest good, and stay clear and free. Once the aura is cleared, you can become more loving and radiant, open to your true joy. 

Track 2: Clearing the energy of your room. Angels and your guide help you to keep the energy of the place where you live at a very high level, filled with pure light and aligned to your highest purpose. Your connection with your guide is also strengthened.