A Weekend Workshop now available as a Home Study Course on Download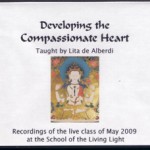 So many of us are drawn to service, to helping others, in this lifetime. This service takes innumerable forms – healing, helping, supporting. This course is for those who want to deepen their practise of giving and receiving love and compassion in their every day lives as part of their spiritual practise and spiritual development.
Because of the live recording some tracks do contain coughing, sneezes and breathing from the participants.
11 deeply healing meditations and practises recorded live at the School of the Living Light. Heal and transform your energy in the light of compassion. This truly transformational seminar is now offered as a Home Study course. By participating in these recordings it is like being at a live class. Based on the core skill of learning how to unify the chakras under the direction of the heart you can activate the 'Eyes of the Heart' so that you can view your life, your choices, your relationships from a place of peace, compassion and deep understanding. When the chakras unify in this way you can develop chakra consciousness. Meditations include:
·         Unifying the Chakras and Activating the Eyes of the Heart
·         Making a Soul Connection
·         Loving Kindness
·         Deepening the Soul Connection
·         Developing Equanimity
·         The Eyes of the Heart
·         Compassion
·         Bodhisattva Healing
·         Divine Love, Inner Peace
·         Evolving the Emotional Body
·         Compassion Initiation
£27.95
email marcodealberdi29@gmail.com to order your download