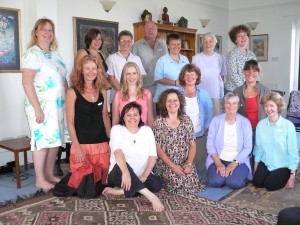 We thought you would like to read some of the many, many lovely comments we get from students. These have been taken from the emails, letters and cards we receive from our students and clients.
PERSONAL CHANNELLED READING WITH ORTAN
I very much enjoyed the reading. I was surprised at how I immediately was aware of the quality and character of Ortan's energy. Before s/he said a word I felt a strong connection to the energy which I felt as very loving and very clear as well as direct and practical – I felt absolutely bathed in it. And that was before he/you spoke! Really great. … The best parts for me were that firstly he and you gave me explicit instructions on how to work energetically to help myself. …The other best thing was how I have been feeling today. Much more connected to myself and also as if Spirit loves me. I don't know if it was just getting started on the exercises or what you said about my attitude being attractive to Spirit but although I knew about the sort of unconditional Love that pours through I have been feeling sort of 'cast out' recently and this brought that supported, loving, connected feeling back to me. That is a wonderful feeling and it really changes the way I can look at everything. I hope I can make it last! So thank you and Ortan very much. l.S. January 2010
COMPASSIONATE HEART SEMINAR
I attended the Compassionate Heart weekend at the School in May 2009. It was a beautiful and profound experience and opened my heart centre to depths of love and compassion I had never realised were possible.
ASCENSION ONE – PREPARING TO LIVE AS YOUR SOUL
Just wanted to say a HUGE THANK YOU for this weekend I knew it would be wonderful but it was so much more than I had expected, it was amazing, I have a wonderful feeling of calm peace and purposefulness (is there is such a word) It was just what I needed to confirm what I have done. today I have had confirmation that the hall I wanted to hire is available so I have booked it to teach relaxation classes and I have been approached by two more people to join my thursday evening meditation group!!!! I am really looking forward to ascension 2!!!!
AWAKENING YOUR LIGHT BODY
Thank you so much for all this wonderful magic you have brought into my life, it really is gold dust and I know I will cherish it forever! You are one of the brightest shining stars I have met on my journey so far.
BECOMING A TEACHER
Oh my God, Oh my God, Oh My God!!!!!! I cannot believe how everything has changed since I did the the Becoming a teacher course. Any way my new group is wonderful. I have never felt so supported before and my group benefit immensly from that. I seem to have a new Guide who is just brilliant and a lot of the personality resistance stuff has fallen away. The course that you ran was brilliant and I would like to thank you for the loving way you supported us. I came away feeling that I am a part of something.
REMOTE READING WITH LITA AND HER GUIDE ORTAN
I have received the reading and listened to it at once!!! Thank you, Thank you , Thank you to you and to Ortan for the advice and answers. I am following it already by starting my meditation journal. I have recorded a gratitude journal before. Now I will expand my writing to recording dreams and my daily meditations experiences. I have attached my very first entry to journal. Some meditation!

Thank you again for the guidance and love.
With love and gratitude. JB 24th July 2010
AWAKENING YOUR LIGHT BODY
I haven't been in touch for some years, but use your meditation/Lightbody tapes most days and they have been enormous support through sunny and more challenging times. I am so grateful to have them in my 'coping with life' toolbox. I often look back on the courses I attended when you were in Cambridgeshire with much affection, especially walking through the orchards and watching the dragonflies dancing among the trees. I hope one day to join you for a course in your new and beautiful setting. Much love and grateful thanks
Here's my update for you after Workshop 2 of Awakening Your Light Body Course. I started listening to the tapes and running the energies quite soon after the last session. More issues came up. I could recognise patterns of thinking – the same old reactions to situations – feeling second best, not good enough, etc. This time though I found that I could acknowledge my negative thoughts and feelings and then let them go! It has helped me feel that my emotions are now flowing and I don't sit and dwell on things trying to analyse what I'm feeling. I just let it go. I have noticed that at work I think more clearly, focusing on the tasks I have to do and then ideas come to me as to how to carry them out. Instead of worrying about how to do things I now trust that I will find a way to do them easily. I am more calm at work knowing that I'll be able to cope with different challenges as they come up. In fact I feel calm and happy in all areas of my life, my self confidence has increased and I don't worry so much about what people think of me.
LITA DE ALBERDI'S BOOK – CHANNELLING: WHAT IT IS AND HOW TO DO IT
I have finished the reading of your wonderful book I bought yesterday. How wonderful that it drew me to the bookshelf on that last break. No thought or decision involved. Just an excited need to learn from it. It is so clear and concise and answered lots of things.
ASCENSION
I left the course on the Sunday feeling completely at peace, very mellow. I did not feel tired, something I have always felt before after a weekend of intense meditation. This may be due to the fact that I am meditating regularly or it may be the effect of the Ascension energies. Maybe a combination! Aligning helps me go with the flow much more easily. I feel very connected (as you said we would) and at one with everything. I am much more aware of my personality as a separate being and therefore can see where thoughts or issues are personality/ego based. I am aware of my two beings much more clearly – my soul self and my personality self. Of course I've still got lots to work on with the latter, but it's easier now. I feel a much stronger being with the ability to direct my life as I want and need according to my soul. I don't really know how I lived without these energies before – they are so valuable to me now (however, everything comes at the right time!). A moment of reflection and turning into the heart energy and I'm right where I belong. Thank you for a very powerful and life changing experience!
GUIDED MEDITATIONS – INNER LANDSCAPES CD
I've recently been diagnosed with tinnitus and for the last 6 weeks I've been struggling to come to terms with it. I just wanted to let you know that I recently purchased your Inner Landscapes meditation CD and it's been an integral part of my coping with this nightmare. I've already ordered more as I'm finding them invaluable, hopefully to my being able to adjust and manage. Thanks again.
ASCENSION
I just wanted to say thank you to you for everything, I am feeling so much happier and very much more at peace with myself, knowing that I am now on the path I should be on, meditating this morning it came to me that I wanted to thank you for working with me and helping me to develop my path.
Ascension has had a profound affect on me and I feel accelerated my practise, you said in class that the alignment was a wonderful daily tool and as usual you are absolutely right, what a fantastic way to start the day!!!!!!!!!!
OPENING TO CHANNEL
Many thanks for a wonderful course ..The weekend was, for me, a profound experience…I am delighted to have experienced the reality of the entity with whom I have dialogued mentally on many occasions and whose gentle guidance has reached me on an intuitive level so many times. It's good to have a name for him too. My respects to Ortan, it was a privilege to be in his company, particularly during the question and answer channelling session. I would have come for the weekend just for that experience alone. I felt deeply honoured to be part of that.
Thank you so much for a wonderful and exciting weekend…….I found it interesting that I overcame my nerves so quickly and then felt excited and just enjoyed every moment! It was so good to be with so many other like-minded people, it created such an easy atmosphere and this combined with the wonderful atmosphere in your home made it all seem so easy
RADIANCE
I want to thank you for teaching me what you know, as it has made an enormous difference to my life. With much love and peace.
LITA DE ALBERDI'S BOOK ON CHANNELLING
When I teach (I am an international yoga/spirit teacher), I can feel the channeling of what I know from a broad perspective, my Self. About 5 months ago I felt the time was right to ask about myself as a channel, and a trusted channeled counselor friend of mine told me to go to a bookstore, and let my intuition choose the channeling book for me. I chose your little book. I could feel its authenticity and it resonated with what I already know. Then I ordered some of your CDs and use them as part of my morning meditation. I especially like channeling for healers, disc 1 and Opening to Love. I plan to order more.
RADIANCE
I just had to e-mail you to tell you how much I loved the Radiance course, especially Transparency, as I can finally put my mental/logical brain to one side and not let them intrude. Thank you for letting me take part in this wonderful journey with you and the other members of the group. I know that Radiance is going to be a continuing part of my life. The group was lovely and so supportive of everyone, we all seemed to gel from day one, and I am sure that most of us will stay in touch. I am really looking forward to hearing and working through the last set of CD's. I can't begin to imagine the amount of time and effort you have put into the course and the transmissions, thank you again for including me. Will see you again at a future date, I am off to listen to the first of the final set of CD's.